Providing Therapy For Victims of childhood abuse, primarily Sexual Abuse
Laughing, appreciating life's simple joys and making memories with loved ones is part of childhood. No one should have those privileges taken away.
ALERT for Monday, October 26, 2020 – in alignment with Poudre School District, we will be closed for all in-person activities. Please contact your therapist for virtual appointment options.
ChildSafe Colorado Safe reopen plan - phase 1
Do you want or need a COVID-19 test? Salud of Larimer County is now offering public testing. Click here for more information. 
We recognize that it's important to take every safety precaution to prevent the spread of COVID-19 as our community gradually reopens to return to daily life. We are committed to protecting the mental and physical health of our clients, staff and community as we begin this process. 
As of Tuesday, May 26th we will launch the first phase of our reopening and will implement the following measures to ensure a safe and healthy return: 
All staff members will be provided with a mask, gloves, hand sanitizer and bleach wipes.

Social distancing will be observed at all times.

All areas of use will be sanitized immediately after use.

To reduce our normal traffic, we will implement a scheduling rotation which will never exceed 50% of our staffing

capacity.
Wherever possible, therapy sessions will continue to be conducted remotely via our telehealth platform.
Everyone entering our facility will have their temperature taken. The date and temperature will be written on a sticker for everyone to wear so we can all be confident we are not coming into contact with individuals with a fever.
Clients will call the front desk when they arrive and be advised to wait in their cars until their therapist is ready to see them. All clients will be asked if they have been out of the country or on a plane in the last two weeks or have had a fever, cough or any other symptoms of illness recently before entering the building. The client's therapist will go to the door to let the client know to enter the building.
We will remind clients and staff who are not feeling well to stay home.
Signs will be posted at every point of entry to let people know that a mask must be worn to enter the building. We reserve the right to refuse entry to anyone not wearing a mask.
If clients arrive without a mask, we will have masks to offer. 
ChildSafe will continue to offer tele-health appointments and group therapy sessions. In-person appointments will be made available on a case-by-case basis assessing who can be accommodated and under what circumstances. 
Please call us if you have any questions, at any time (970) 472-4133.
Please be safe and take care of one another.
When survivors of child abuse walk through our doors, it is the beginning of a difficult journey to healing. While child abuse affects every victim differently, most feel confused, guilty, and afraid. ChildSafe is one place where survivors and their families can feel safe, comfortable, and supported. Through expert counseling and compassion, we help them to not only survive, but also thrive as they work their way through their journey to healing and reach a point of recovery that will last.
We at ChildSafe are proud that we can provide treatment for all those who need our services. We are committed to providing safe, responsive treatment, education, and recovery from childhood abuse, primarily sexual abuse, without prejudice or discrimination while respecting the personal dignity and worth of each individual.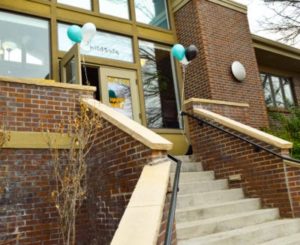 ChildSafe Invites Community to visit new location at Open House
Read More »
"My son felt safe here and overcame so many emotional troubles, the loss of his father, and trying to understand why he is in prison. Everyone at ChildSafe was amazing…it helps to know that you'll be helping others through this, too."
"I've noticed a dramatic difference in my children since they started counseling at ChildSafe. They are much calmer, smile more often, and express affection more freely. I've also learned some valuable parenting skills that have helped me deal with some challenging behaviors. ChildSafe has been a great support and resource in a difficult time."
"Group makes me powerful!"
"Thank you for bringing happiness back to our family"
Join our list and be the first to receive information about our upcoming events, programs, and news at ChildSafe.