Laughing, appreciating life's simple joys and
making memories with loved ones is part of childhood.
No one should have those privileges taken away.
Therapy for Victims of Sexual Abuse
When young survivors of child abuse walk through our doors, it is the beginning of a difficult journey to healing. While child abuse affects every victim differently, most feel confused, guilty, and afraid. ChildSafe is one place where children and their families can feel safe, comfortable, and supported. Through expert counseling and compassion, we help them to not only survive, but also thrive as they work their way through their journey to healing and reach a point of recovery that will last.
We at ChildSafe are proud that we can provide treatment for all those who need our services. We are committed to providing safe, responsive treatment, education, and recovery from childhood abuse, primarily sexual abuse, without prejudice or discrimination while respecting the personal dignity and worth of each individual.
We treat all people with dignity and respect, regardless of race, religion, gender identity, disability, sexual orientation, nationality, country of origin, or belief system. We, a growing collective of nonprofits in the community, are committed to making Fort Collins a great place to live for everyone. We will continue to advocate for and provide quality services to all who need them.
Tratamos a las personas con dignidad y respeto, independientemente de su raza, religion, identidad de genero, discapacidad, la orientacion sexual, nacionalidad, pais de origen o sistema de creencias. Nosotros, un creciente colectivo de organizaciones sin fines de lucro en la comunidad, estamos comprometidos a hacer de Fort Collins un gran lugar para vivir para todos. Continuaremos abogando por y proporcionaremos servicios de calidad a todos los que los necesiten.

"My son felt safe here and overcame so many emotional troubles, the loss of his father, and trying to understand why he is in prison. Everyone at ChildSafe was amazing…it helps to know that you'll be helping others through this, too."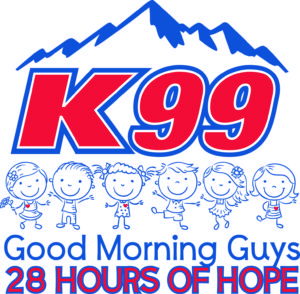 For the past 19 years, the K99 Good Morning Guys have hosted 28 Hours of
Learn More »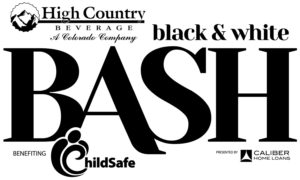 WHEN: Friday, September 14, 2018 Time: 6:00 PM – 9:00 PM Location: TBA Tickets: TBA Title Sponsor:
Learn More »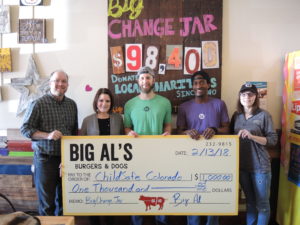 We want to send out a BIG THANK YOU to Big Al's for allowing ChildSafe
Learn More »
Dohn Construction Golf Tournament
Rotary Club of Fort Collins Satellite BBBrew for Hope
Join our list and be the first to receive information about our upcoming events, programs, and news at ChildSafe.